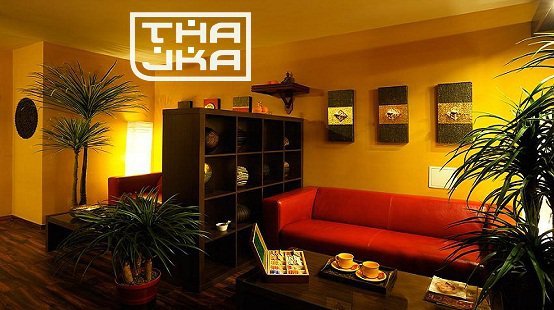 About Thajka Salons
We take the liberty of inviting you to comfortably equipped Thajka salons, where you can release your body and mind at traditional Thai massages or enjoy cosmetic treatments with application of Alcina cosmetics. You can
reserve and pay for the massages by credit card on-line
or by a gift voucher, in cash or by credit card directly in the salon.
Prague salons are situated in Zlatnicka and Keplerova streets, or in the hotels Clarion Old Town, Oáza and Rott. In the branch Zlatnická we moreover offer
beauty services
.
Massages are carried out by native-born Thai masseuses having vast experience and certificates of Wat Pho Temple School. The diploma gained from this school are the most respectable of all Thai schools and are usually required as a qualification condition for a job in renowned massage facilities. Massages are available both to hotel guests and outside visitors. Hotel guests may moreover decide if they wish to take massage directly in the comfort of their hotel room or in the Thajka salon within the hotel wellness centre.
You can choose from a
various massages
offered, there are even several types of different duration and at different prices available, ranging from thirty-minute massages of hands, arms, feet and legs or head through to two-hour Thai classical or oil massages! Intense experience and maximum relaxation is evoked by the Nirvana massage with application of hot herbal pouches or a 120-minute aromatic oil massage having a positive feel-good effect on your body and soul.
Beauty services
in the the branch Zlatnická include various types of depilation, eyebrows correction and dyeing, exclusive treatment of skin, lava-stone massages and makeup. Our professionally trained staff will offer you excellent services using Alcina brand cosmetic products.
Thajka also offer a
series of packages
, whether relaxation weekend stays or conference packages for business clientele, which, in addition to a Thai massage, also include rental of a meeting room or dinner in a luxurious hotel restaurant. Thai massages in the Thajka salon can be combined with other activities, too, ranging from bowling, through to tennis and swimming in an indoor swimming-pool or relaxation in sauna.
Directly at the wellness centre reception you can buy an original present for your dear ones –
gift vouchers
for individual services! Of course you can also order them comfortably from your home on-line, by phone or e-mail.
There are interesting quantity discounts and benefits we offer to companies and groups, for more information do not hesitate to contact our office.
And if you are too busy or you wish to variegate an event you organise in your place, call us! We will take pleasure in coming to your home or firm.
Relief from stress, stimulation of blood circulation, body purification from toxins and impurities, nervous system repair, energy-boosting and the total body harmonization – all of this is an effect of Thai massages provided in Thajka salons!
We are looking forward to your visit
Your Thajka