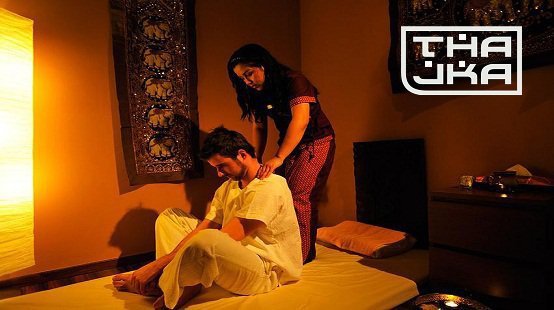 First Time in Spa
Massage techniques are very different from techniques of classical massages which are practiced in Europe and focused principally on muscles and soft tissues. Thai Massages are, on the contrary, focused on the whole body, with the biggest concentration on muscles of legs, joints, feet soles and back because those parts of the body are the most strained at the contemporary style of life.
The art of a "traditional Thai Massage" requires wide knowledge of human body, particularly bones, tendons, ligaments and muscles. The massage is used to relieve pains and alleviate chronic symptoms and pains of muscles and bones often caused by wrong posture (all-day standing or sitting). It may also work as a therapy to suppress consequences of damage to tissues and at disorders caused by heavy stress and by tension resulting from the stress. Many people are often surprised that such a soft method can help to reduce stress and tension caused by physical malfunctions, too.
Relief from stress, stimulation of blood circulation, body purification from toxins and harmful substances, nervous system repair. Energy-boosting and general harmonization of the body. All of this is an effect of Thai massages provided in Thajka salons!
Before your visit to the salon
» book your procedure in advance,
online
or by phone
» our salons have private rooms for a single person or for a couple
» before a massage, don´t eat, don´t drink alcohol and don´t smoke
» you should arrive in the salon 10 minutes sooner
» you don´t have to take anything with you, you will get everything directly in the salon
» should you have any health complications or problems, consult suitability
of the massage with your physician
Entering the salon
» follow the instructions of masseuses and receptionists
» at our reception you will pay your procedure (in cash or by credit card EC/MC, VISA)
» you can also pay by THAJKA gift vouchers, by credit card online or upon invoice in advance
» massages subject to action discounts can´t be paid by payment vouchers and benefit cards
» we accept Ticket Benefits (MULTI and SPORT&KULTURA)
» we accept Ticket Compliments (DARKOVY)
» we accept Sodexo Darkovy Pass, Flexi Pass, Bonus Pass, Fokus Pass and Relax Pass
» we accept Chèque Déjeuner CADHOC, Unisek and Unisek+
» we accept Benefity and Benefit Plus Cards (please note the card No. down in the Remarks)
» keep the receipt, it can be used within the framework of our
loyalty programme
» if it is your first visit here, make yourselves familiar with the Operating Rules and Instructions
» respect the peace, don´t make phone calls and don´t disturb other clients with any noise
Before a massage
» at the reception desk you will get a key from your locker
» valuables can be stored at the reception desk (take off your rings, earrings, necklaces etc.)
» in your locker your will find a towel
» in the changing room undress and have a shower
» for a classical Thai massage put on the prepared clothes (100% cotton)
» for oil massages you can keep your underwear on
» upon demand your will receive a one-way underwear or a cotton dressing gown
Your First Thai Massage
» our therapist will guide you into the massage room
» draw her attention to any health complications or problems you may have,
birthmarks, pregnancy, high blood pressure, allergies etc.
» massages are performed on a special massage mat placed on a floating laminate floor
» for oil massages we use high-quality Thai oils
» for Nirvana massages we use steamed pouches with a mixture of 25 Thai herbs
» at the massage, relax and listen to the tones of the temple relaxation music
» the massage shouldn´t be painful, agree with the masseuse on a decrease / increase
in the pressure of the massage, as needed
After the massage
» after the massage change in the changing room
» hand over the used bath towels, dressing gowns and clothes to the receptionist
» after the massage don´t drink alcohol, but add missing water to your body
to help it get rid of toxins
» after an oil massage don´t have a shower – thus you will prolong the positive effect
of the oils on your body
» in our relaxation room you will get water or tea (according to your choice) free of charge
» have a rest and relax, Wi-Fi internet is available to you free of charge
» after the massage you may feel tired, but this feeling will fade away after a while
Click here for more information about use of
sauna
or
whirlpool
.